Black Shade Mesh will not fade and blocks both insects and 80% of sunlight. Best shade screen material for visibility.
White Shade Mesh – This shade screen material is used primarily for outdoor projection screens.
Common uses for black shade screen material are to screen windows for either shade, privacy or both. Our Black Shade Screen fabric has interesting optical qualities. While inside, you see out rather clearly, but when outside looking in, the shade screen fabric is rather opaque and good for privacy. In addition, this shade screen mesh has been lab tested to block 80% of sunlight.
10% Off Labor Day Sale! Coupon = "LaborDay23" until Sept 10th. (866) 622-0916

Delivered in About 5 Business Days!

Why Us For Raw Netting (1:54)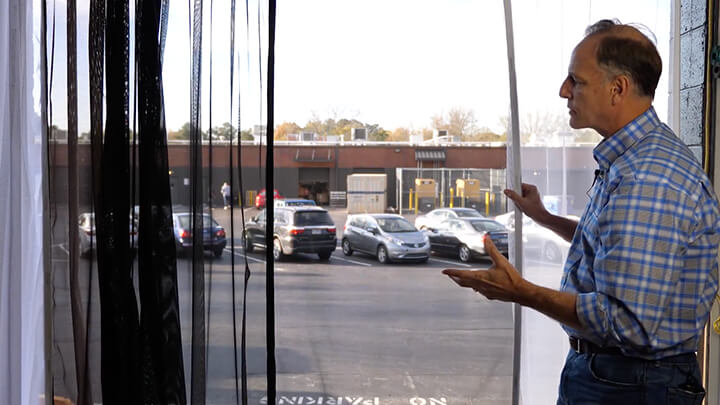 Compare Optical Qualities (4:00)
Mesh Types Overview (1:48)
Shade Screen Mesh Information
Multi-Purpose
Looking for a quality mesh fabric that will protect you from mosquitos and other insects? Perhaps your project is for a purpose other than insects. Our mesh netting fabric can do just that.
100% Polyester Made To Get Wet
Our Mosquito Netting Fabric is 100% polyester made for outdoors and made to get wet.
Sold by the Foot From Massive Rolls
Common bolts of fabric are 54-60″ wide. OUR mesh fabric rolls are VERY WIDE from 100″ – 140″. Order by the linear foot from the respective roll. Use the order form to determine the cost.
CA Fire Rated
Netting Fabrics are CA fire rated (NFPA 701 small test).
Will Not Unravel On Edge
Our unique mesh netting weave is a "lock stitch" such that it will not unravel when cut.
Solution Dyed
Netting materials are solution dyed for maximum fade resistance.
We have several mesh netting fabric types to choose from! Each of these raw netting meshes serve a particular purpose in our fabricated solutions. We sell them here in raw netting pieces cut by the linear foot from huge rolls to custom fit your needs.