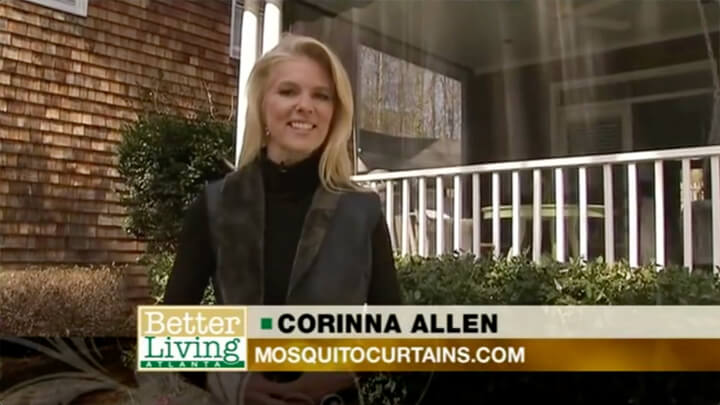 Product description in a nutshell (1:30)
10% Off Labor Day Sale! Coupon = "LaborDay23" until Sept 30th. (866) 622-0916

Delivered in About 5 Business Days!

Custom-Made Pergola Screen Curtains
Our custom-made Pergola Screens are made from a marine grade quality mosquito netting and bound with a sturdy perimeter webbing, Black Curtains are solution dyed for most robust fade resistance. We also offer white and cream colored curtains. Our netting is far stronger that cheap quality netting and made to LAST. We offer mosquito, no-see-um, and shade mesh types. Since they are custom-made, we can cut virtually any shape & size.
How To Get Yours In 3 Easy Steps

Discover options available to you
See how our system works
See actual installation video

Use calculator for a close estimate
See examples below for a visual idea on pricing.

For an online planning session to answer questions while drawing on your photos as You Watch!
More Information About Pergolas
Pergola Types (compatibility considerations)
If you already have a pergola, we'll try to work with what you have though some pergolas are much easier than others and some are just plain impossible. If you are planning a pergola, give us a call so we can help make sure whatever you make is compatible with our curtains. Below are some examples of principles. Easy pergola designs have flush flat surfaces for easy sealing.
Continuous Roof Perimeter & Flush Top (Easy)
This design is simple to configure as there are no protruding rafters and the perimeter for the roof panel is more or less the same perimeter frame used to hang the wall panels. Notice we aren't even concerned that the shape of the roof panel will be non-rectangular. We can cut that shape! All our eyes look for are nice clear paths and no gaps. The roof panel secures on top and the wall panels hang from the outside of the perimeter fascia board. If you are haven't yet built your pergola, this type is very compatible with Mosquito Netting Curtains.
Rafters Stacked on Top of Header (Not Easy)
While this is a very traditional style for pergolas, it is harder to do. Notice that the rafters are on top of the header. A roof panel on top of the rafters and wall panels hanging beneath the header beams create what we call little rafter gaps. While we have ideas for rafter gaps involving little panel-ettes, it is less than optimal. Sealing would be far easier if the tops of those rafters were flush with those headers by dropping them down "within" the headers instead of resting on top of the headers.
Do I Really Need A Roof Panel?
Sometimes, not! Mosquitoes are D-U-M-B. We emit a combination of chemicals that attract mosquitoes that vector directly towards the scent we emit. When they reach a barrier, they tend to bounce and bounce but not move laterally in search of gaps. The taller your structure, the less likely mosquitoes are to wander up and over the net. However, you never know. There are many species with different behaviors and you may live where there are unusual air currents that blow them up and over. Quite often we'll tell clients to hold off on a roof panel which they can always purchase later, however, before buying a curtain, you DEFINITELY want to have a back up plan for a roof panel BEFORE you discover you are in the "unlucky club" or will not attach to your liking.
Tips For Those Planning A Pergola
When planning a pergola, please create a stable and safe structure. You'll want to plan for an overhead box to mount curtains and ensure you have a perfectly flat roof surface for the ceiling panel without "rafter gaps." Some other things to keep in mind are:
Keep the overhead rafters within the header beams.

MOST important is to have clear paths and flush surface to create a seal.


Tracking is UNDER-mounted to some surface and Velcro top attachment is SIDE-mounted to some surface.

Costco® sells 

Yardistry® model pergolas

 that are outstanding quality.
The Simplest Possible Structures
All we really need is an overhead box that is stable so that no one gets hurt. For the project on the right, the client only wanted an overhead shade to block the West Texas sun using our shade mesh. They didn't have a bug problem, although this would be enough structure to mount wall panels if they did.
Example Of Open Deck Solution
Our most important concern is always quality. Here is an example. The cheap gazebo screens you may have seen on aluminum gazebos at home improvement stores are garbage. You can put your thumb right through it. Our netting is strong enough to lift this 240lb man. Even more, it is "solution dyed" such that the thread is colored and UV protected to its core. It means that your curtains won't fade or rot prematurely. All fasteners are stainless steel and our tracking hardware is powder-coated aluminum.
Why Choose Our Pergola Insect Curtains?
Our attachment hardware much simpler and more affordable.

We only use Marine Grade mesh and thread that is more durable and will last longer.

We do things right – We add reinforcement prior to stitching so seams are stronger.
Ready to get started? Click the button to begin learning your options.
If you have a Pergola that is unusable because of annoying biting insects, we may have a very affordable solution for you. Mosquito Netting Curtains are a marine-grade quality product to create a pergola screen enclosure custom-fitted to your existing pergola. We will provide for magnetic doorways so that you can easily enter & exit your new pergola curtain enclosure. Need a roof panel? No problem. In fact we also offer and overhead shade material to protect you from harsh sun AND bugs. Our custom pergola netting curtains are removable, washable and easily self-install in just a few hours.