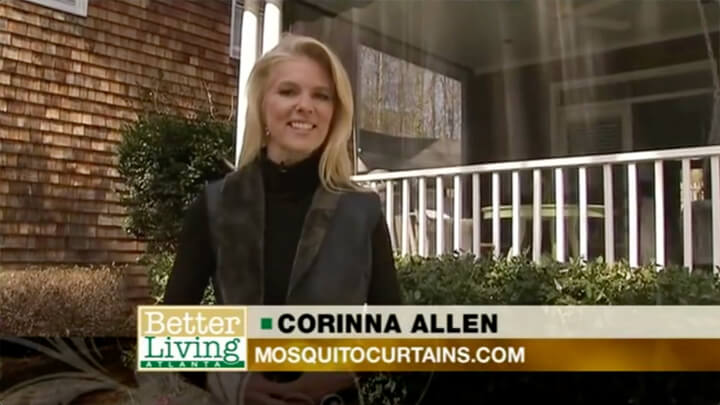 Product description in a nutshell (1:30)
10% Off Labor Day Sale! Coupon = "LaborDay23" until Sept 30th. (866) 622-0916

Delivered in About 5 Business Days!

How To Get Yours In 3 Easy Steps

Discover options available to you
See how our system works
See actual installation video

Use calculator for a close estimate
See examples below for a visual idea on pricing.

For an online planning session to answer questions while drawing on your photos as You Watch!
More Information About French Doors
Custom-Made French Door Screens
Tired of Cheaply made products that are difficult to use? Mosquito Curtains offers custom-made, marine-grade quality French door screens that are made to last. Choose from a variety of options including an overhead tracking system that enables you to easily open your French door screen curtains. We may not be the lowest price, but we are certainly the best value for the quality and usability you will appreciate.
3 French Door Screen Options Explained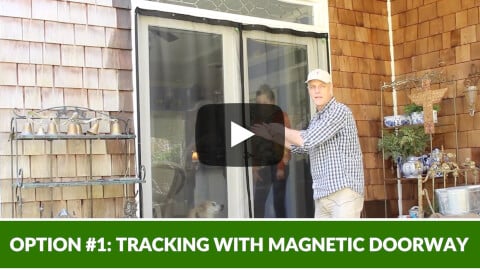 TRACKING WITH MAGNETIC DOORWAY
Tracking is mounted to the underside of your header beam flush with the most exterior edge. Tracking enables you to slide each screen panel to one side.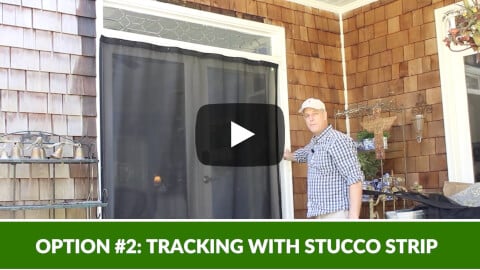 TRACKING WITH STUCCO STRIP
This is probably our favorite configuration with the doorway to one side for a seamless look. Tracking is mounted to the underside of your header beam flush with the most exterior edge. Tracking enables you to slide the main panel to one side. Main panel can either be on left or right when you install. Order is same.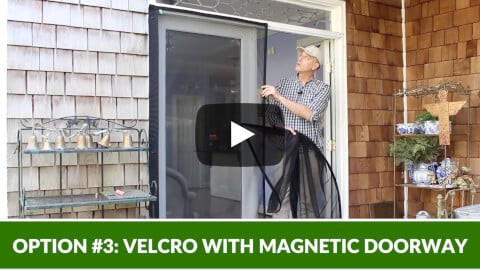 VELCRO WITH MAGNETIC DOORWAY
This solution is not on a track and therefore not capable of sliding. The screen is top-attached using Velcro.
Quality French Door Screens
Our most important concern is always quality. Here is an example. The cheap gazebo screens you may have seen on aluminum gazebos at home improvement stores are garbage. You can put your thumb right through it. Our netting is strong enough to lift this 240lb man. Even more, it is "solution dyed" such that the thread is colored and UV protected to its core. It means that your French Door Screens won't fade or rot prematurely. All fasteners are stainless steel and our tracking hardware is powder-coated aluminum.
Value = Quality For The Cost
We have a corny slogan internally that we make people happy and then make enclosure solutions that they will brag to their friends about. If you receive your product and it it not right, we will fix it immediately. If you open the box and simply don't like what you see, we will refund your purchase (less shipping). In our world, no dollar is worth the price of honor. We are a small American family business and we are teaching out children that "work is good."
We believe we can produce a quality product that will make people happy, earn a living, and leave work each day with our heads up knowing that we fulfilled that promise. Call us and you will hear unflinching passion. You'll want to join over 53,000 others that are now part of our family of satisfied clients.
What Makes Our French Door Screens Different?
We realize that you have alternatives and want to know what differentiates our system from others. We want you to have what is right for you, even if you decide to purchase elsewhere. There are cheap one-size-fits-all products out there that are tissue paper thin that will do just fine for a season of two. We offer marine-grade materials that you can conveniently slide your French Door Screen from side to side at an affordable price!
Ready to get started? Click the button to begin learning your options.