Clear Vinyl Plastic Enclosures
Use Clear Vinyl Plastic Patio Enclosures with Space Heater to Stay Warm
Custom made Weather Curtain Panels to Insulate Outdoor Space.
Exceptional Marine-grade quality.
Delivered at lightning speed in 6-10 business days (US/CA).
83,246 happy customers since 2004. Read Client Reviews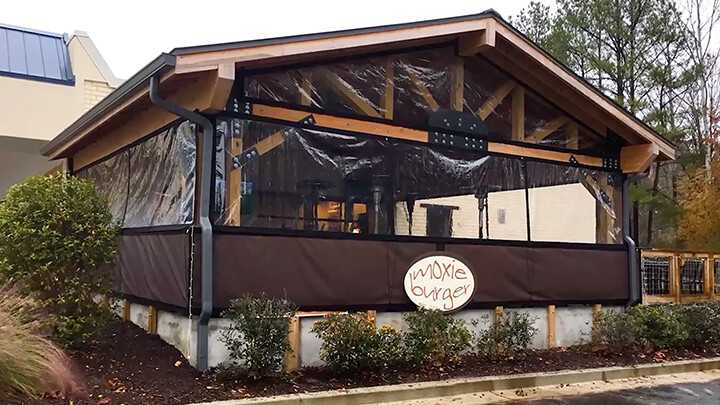 Product description in a nutshell (1:30)
Review 6 Topics Below To Learn More
Estimate Within 5% of Actual Cost
Apron Colors & Client Gallery
See Results of Client-installed Projects
It Is About Choices & Care
Ready to get started? Contact our planning team.
More Information About Clear Vinyl Enclosures
Clear Vinyl Plastic Porch Enclosures
Are you wasting usable living space in your own home? Think about the possibilities if that porch or patio wasn't so cold in the winter. A cozy dinner outside, board games with the kids, a hangout for football games, or maybe just a good smooch on a porch swing during a snow storm. Time is precious. Perhaps you can connect with your family the old-fashioned way… just outside your own door.
Plastic Enclosures Interchangeable With Our Summer Mosquito Curtains
We offer both Summer Mosquito Netting Curtains & Clear Vinyl Winter Panels that will enable you to enjoy family time just outside your own home. Best of all, the two products are entirely removable & interchangeable such that you can swap them out in the Spring and Fall. We designed an easy to self-install product perfect as an afternoon family project that you will all later enjoy, together! Congratulations! You just found a needle in a haystack and the best Quality / Price anywhere!
We Do All Types Of Enclosures - Residential & Commercial
Plastic Enclosure Curtains For Patio
Protect your porch or patio from old wind, rain, snow or spring pollen with custom-made Clear Vinyl Plastic Enclosures. Used in conjunction with a space heater, our plastic porch enclosures will create a cozy outdoor space while protecting your porch from the damaging elements. Weatherproof your Patio Today!
All Weather Patio Enclosure Curtains
Are custom-made with marine-grade quality materials for an affordable all-weather outdoor space. Waterproof all weather plastic curtains will protect you, your family pets, and plants from frosty winter weather. Great for weather-proofing existing screen porches & patios!