Next Step: Prepare for Your Planning Session
During high season, we are extremely busy and really need our clients prepared. Below is the basic information you should know to make our planning session, together, as efficient as possible.
Know Your Mesh Type & Color
Know Your Top Attachment Preference
Understand Our Simple Attachment Hardware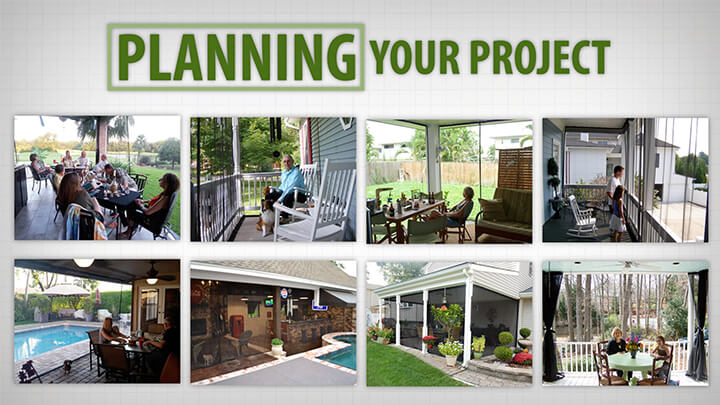 1. Know Your Mesh Type & Color
Your project will be made up of a series of mesh panels made from a mesh type and color of your choosing. Watch the video to see how panels are used to create your enclosure.
There are three mesh types and three colors to choose from. Over 90 percent of orders choose Black Heavy Mosquito Mesh. The first exception is our Noseeum mesh where "No-seeum" biting flies are a problem. In this case, customers choose the No-seeum Mesh. The second exception is our Shade Mesh for those trying to create shade in their application.
See Through Each Mesh (4:00)
2. Know Your Top Attachment Preference
There are 2 main top attachment types. Tracking and Velcro®. A tracking installation allows you to open your curtains sliding them side to side. Velcro® is fixed at the top and doesn't slide. Both are simple to install.
3. Understand Our Simple Attachment Hardware
One of our biggest focal points is the ease of installation and usability of your curtain. For simple installation, we use a series of versatile components like marine snaps to allow you to attach to different surfaces. Our magnetic doorways allow you easy entry and exit between panels and at the edge of panels. Each of these videos is under 90 seconds. Watch them and you will understand most of what you need to know about how your curtains will operate.
Marine Snaps in under 90 Seconds
Magnetic Doorways in under 90 Seconds
Stucco Strips in under 90 Seconds
Watch the appropriate video to see a full installation. This will give you a total understanding of how our product works.
Complete Tracking Installation 39:28
Complete Velcro Installation 28:38